Pick up an at-home COVID test at Walgreens
Get one test for $
34.99
or two tests for $
69.99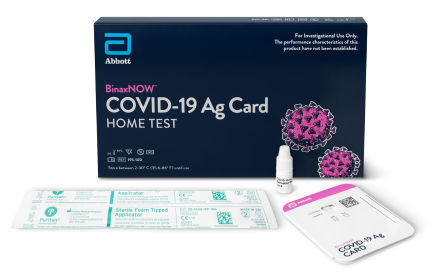 1. Check if you qualify for a test
You must meet both of the following to qualify for a test:
• The patient is at least 4 years of age
• The patient is not experiencing severe COVID-19 related symptoms such as severe shortness of breath, continuous pain
or pressure in the chest, or persistent fever greater than 102oF
Note: In order to keep our team members and customers safe and healthy, we follow CDC guidelines. In case you're experiencing symptoms of COVID-19, Walgreens is offering no-cost, contactless, drive-thru COVID-19 testing for patients age 3 and up at select locations. Visit walgreens.com/covid19testing to find testing near you.
3. Print and complete a Pickup Form
Fill out the form in its entirety. Choose whether you want to purchase one test for $34.99 or two tests for $
69.99
Note: You must present a valid photo ID (state ID or driver's license) along with your pickup form when picking up your order. Insurance is not accepted for your order. eMed and Walgreens are unable to bill medical or pharmacy benefits for this order.
Visit our
travel page
for important information regarding using eMed for travel.
When you're ready,
start testing
with eMed.
NOTICE
Only certain BinaxNOW tests can be used in an eMed guided session.
Not supported by eMed
Supported by eMed
Supported by eMed
Supported by eMed