What's in the Box
The shortest route to fast results.
Inside, you will find all you need to conduct a COVID-19 rapid test, authorized for use on a virtual visit with an eMed Certified Guide.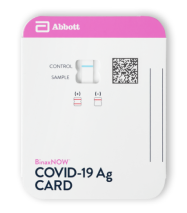 BinaxNOWTM
COVID-19 Ag Card


Newly Designed Single-Use
Extraction Reagent Bottle


This product has not been FDA cleared or approved; but has been authorized by FDA under an EUA;

This product has been authorized only for the detection of proteins from SARS-CoV-2, not for any other viruses or pathogens; and,

This product is only authorized for the duration of the declaration that circumstances exist justifying the authorization of emergency use of in vitro diagnostics for detection and/or diagnosis of COVID-19 under Section 564(b)(1) of the Federal Food, Drug and Cosmetic Act, 21 U.S.C. § 360bbb-3(b)(1), unless the declaration is terminated or authorization is revoked sooner.