Protect your family. protect your community.
ONLINE 24/7 TELEHEALTH COVID-19 TESTING. NO APPOINTMENT NEEDED.
eMed's Test-To-Treat™ platform complements FDA-authorized at-home tests with telemedicine coverage, provides a verified digital lab report in minutes and connects users to treatment–if needed–at no extra cost.
Important Information about Expiration Dates: The manufacturer has extended the expiration date of BinaxNOW Home Tests. Using the lot number on the outside of the box the test comes in, you can find the new extended expiration date here.
What's in the Box
The shortest route to fast results
Inside, you will find all you need to conduct a rapid COVID-19 test, authorized for use on a virtual visit with an eMed Cartified Guide.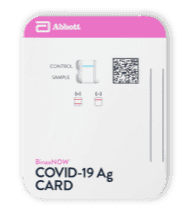 BinaxNOWTM
COVID-19 Ag Card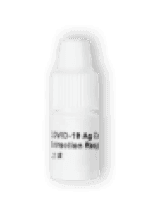 Newly Designed Single-Use
Extraction Reagent Bottle
Learn more
Use the links below to learn more about Abbott's BinaxNOW COVID-19 Ag Card Home Test.
See FDA Emergency Use Authorization
This product has not been FDA cleared or approved; but has been authorized by FDA under an EUA;
This product has been authorized only for the detection of proteins from SARS-CoV-2, not for any other viruses or pathogens; and,
This product is only authorized for the duration of the declaration that circumstances exist justifying the authorization of emergency use of in vitro diagnostics for detection and/or diagnosis of COVID-19 under Section 564(b)(1) of the Federal Food, Drug and Cosmetic Act, 21 U.S.C. § 360bbb-3(b)(1), unless the declaration is terminated or authorization is revoked sooner.